We are delighted to have recently received our first shipment of African Rosewood (Guibourtia coleosperma) in over a year. Many of you will know that Zambia (the source of much of this rosewood) closed its borders to timber exports for most of 2014, having stopped a number of trucks of illegally harvested logs destined for China. Needless to say, we applaud this effort to eliminate unscrupulous harvesting. What is has meant though, is that the legitimate industry has also ground to a halt and shipments have only recently commenced again.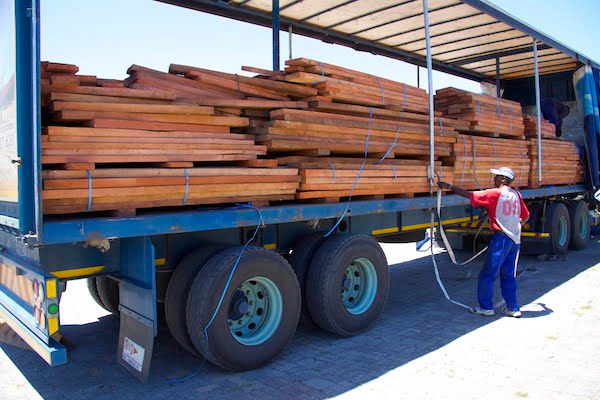 The shipment we have received is mostly 50mm thick, nicely overcut, with decent lengths and widths. We are expecting to get some 26-28mm thick planks in a second shipment to follow.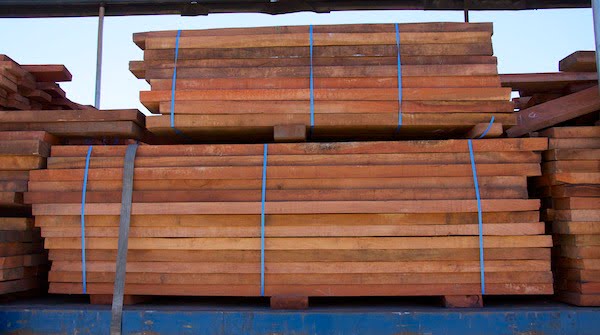 In the meantime we are going through the necessary steps to turn this into prime saleable timber: Firstly we have pin-stacked it in the yard of our overflow storage facility in Cape Town. This allows the process of air-drying to start to bring the moisture content down from the 60-90% levels that the timber is currently at.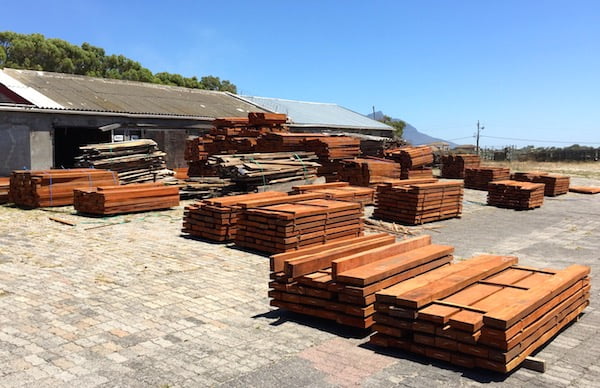 Secondly, we have decided to deep-cut some of the planks so that we have a greater stock of 26mm available – as that is the thickness that is usually in highest demand. Watch the video clip below to see a few trial pieces going through our Sawmat horizontal bandsaw.
Finally, we are clearing our kilns (currently full of Kiaat!) in order to make way for this timber. Despite the air-drying, the load is likely to require 4-6 weeks in the kilns before the moisture content is down to an acceptable level. At current Eskom prices that is going to be an extremely scary electricity bill – possibly into six figures!
Anyway, please come in to appreciate the fruits of these labours, and register your interest if you would like us to earmark some of the stock for you.
Hope to see you soon!