We recently had the great pleasure of hosting a stand at the Knysna Working with Wood festival. The festival was a great success and a brilliant showcase for the incredible talent and creativity in the SA woodworking community.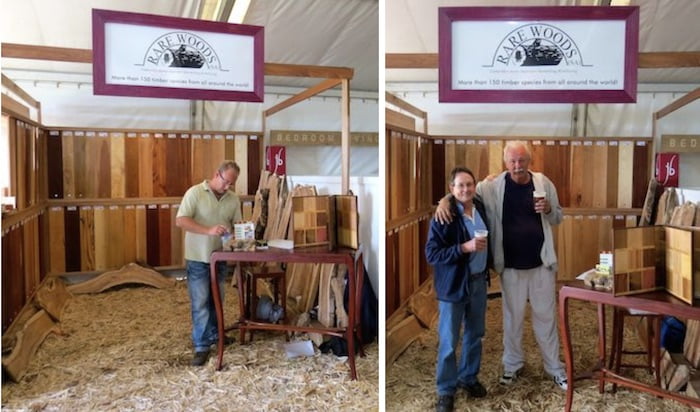 Cadeyrn hard at work…. while the old men (Andy & Ed) enjoy a beer
This report from Andy Stoker, our branch manager in Knysna:
"The show was hosted by Timber Village at their scenic premises in Welbedacht Lane and sponsored by Vermont Tools. It was professionally and well organised with a good cross section of the Knysna Wood Industry present. The standard of exhibitors was excellent and we were delighted to see many of our loyal customers exhibiting.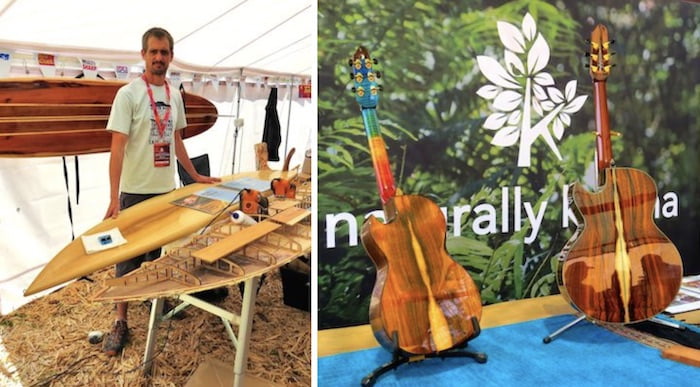 Patrick Burnett's surfboards and Marc Mainguard's guitars
Particular highlights were Patrick Burnett Wooden Surfboards from Cape Town and Marc Maingard who now makes his awesome guitars at Cape St Francis. They gave demonstrations of their skills and we are proud to say that they purchase their wood at Rare Woods Epping . Aren't those Brazilian Rosewood guitar backs awesome !!
Vermont Tools and Strand Hardware put on numerous demonstrations including table saw and router use, tool sharpening and lathe work. It was great to hear the buzz of machines and see the shavings fly !


Many of our valued customers displayed their fantastic skills and products
Rare Woods had a very professional stand which was put together by the usual hard work and excellent teamwork. Our samples are neatly labelled and boast two different finishes viz Penetrol Oil on one side with water based Rystix on the reverse. The colour difference, particularly in darker woods is remarkable. Our unique wood sample book (more on this soon!) attracted much attention and comment, as did the eye-catching Purple Heart frame around our sign. Our planed Wild Olive planks were also a great success.
For the thirsty there was good freshly ground coffee, Bonnievale Wines and Red Bridge and Mitchell's Local Brew.
The event even made the SABC News and overall opinion was that it was a great success with bigger things to come!"